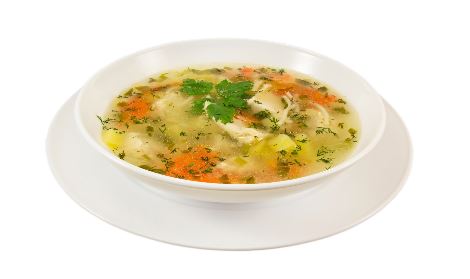 If you're looking for a nice and light summer soup, this one's for you! Turmeric is a natural anti-inflammatory agent. It can be used in high amounts to relieve pain without any drawbacks. The better forms of curcumin have carrier compounds that help them absorb effectively. These are mostly phosphatidylcholine-based carriers. Those who are avoiding soy are cautious about phosphatidylcholine, but it isn't necessary. The negative parts of soy are isoflavones, lignans, and some of the other protein compounds. The phosphatidylcholine from soy is harmless and has no drawbacks like soy does otherwise. Enjoy!
Ingredients:
1 pound of organic free-range chicken breasts
6 cups of chicken bone broth
1 tbsp avocado oil
1/2 of a medium sweet yellow onion diced
3 to 4 cloves of garlic (minced)
1-inch piece of fresh grated ginger
4 whole carrots (peeled and cut)
4 stalks of celery (chopped)
1 medium head of green cabbage (shredded)
1 medium zucchini (chopped)
1 tbsp dried thyme
1 tbsp dried oregano
1 tbsp dried parsley
1/2 tbsp fresh ground turmeric
Directions:
Cook chicken breasts and four cups of the chicken bone broth in whatever pan works best for you.
Remove the chicken breasts from the broth.  Set aside to cool, shred, then store in the fridge if you are not making the soup right away.  Reserve the remaining bone broth for the soup.  You can also use shredded chicken from a whole chicken.
In a large soup pot, heat oil over medium-high heat.  Once hot, lower the heat to medium and add onion, garlic, and ginger.  Cook for approximately five to six minutes, or until softened
Add carrots, celery, and cabbage.  Stir and cook for an additional six to eight minutes.
Stir in zucchini, remaining two cups of bone broth, and the four cups of bone broth used to cook the chicken.  You may need to strain the broth used to cook the chicken.
Raise the heat to medium-high and bring to a boil.  Once boiling, lower the heat to medium-low, cover, and simmer for 20 minutes.
Add spices and shredded cooked chicken, cover, and continue simmering for an additional 20 to 30 minutes.  The longer it simmers, the better it tastes!