From Obese and Epileptic to "Top Doc"
I research.  I inspire.  I love natural health.
Hey There!
I'm Dr. Alan Christianson, NY Times best-selling author, Naturopathic physician, and wannabe athlete. My wife Kirin and I have been happily married for over 20 years. We are proud parents of two awesome young adults. Many people call me "Dr. C" for short.
My Philosophy of Health
I believe:
Great health is your birthright. Even if you've been at a dead-end for decades, things can still get better. I've been through that. Never give up or never settle for anything less.
Your health is in your hands. Conventional medicine is there to help trauma and acute illness. It is not effective for reversing or managing chronic diseases.
Your body has innate wisdom. Think more about what simple things could be holding you back rather than what are the latest fads that promise to 'hack' your way to health.
Your health is a matter of fact. Your treatment is a matter of opportunity.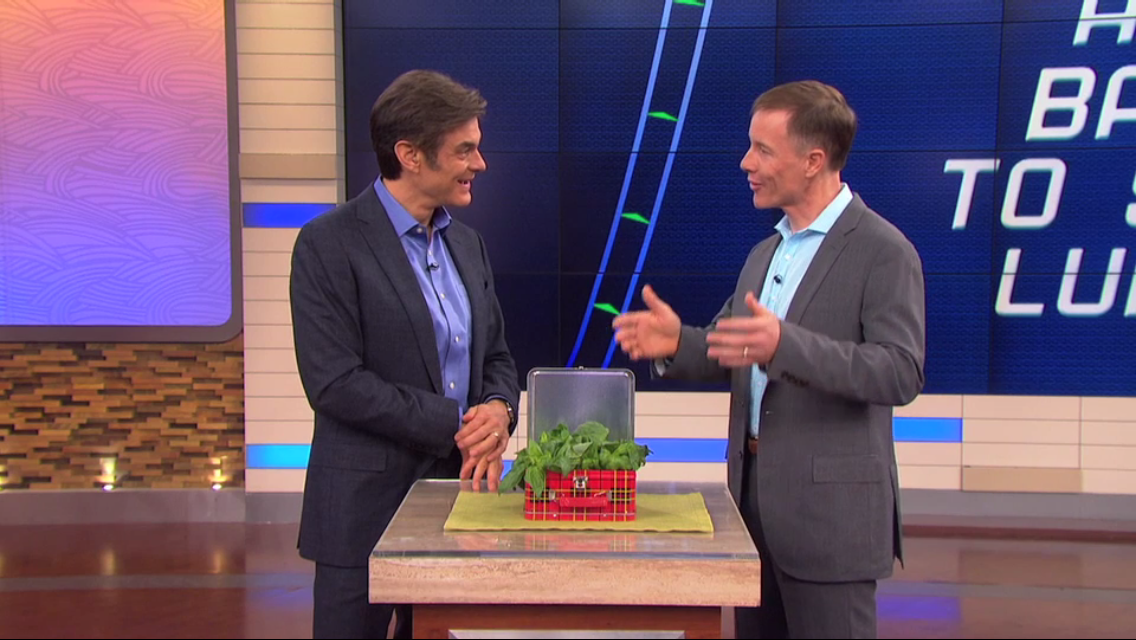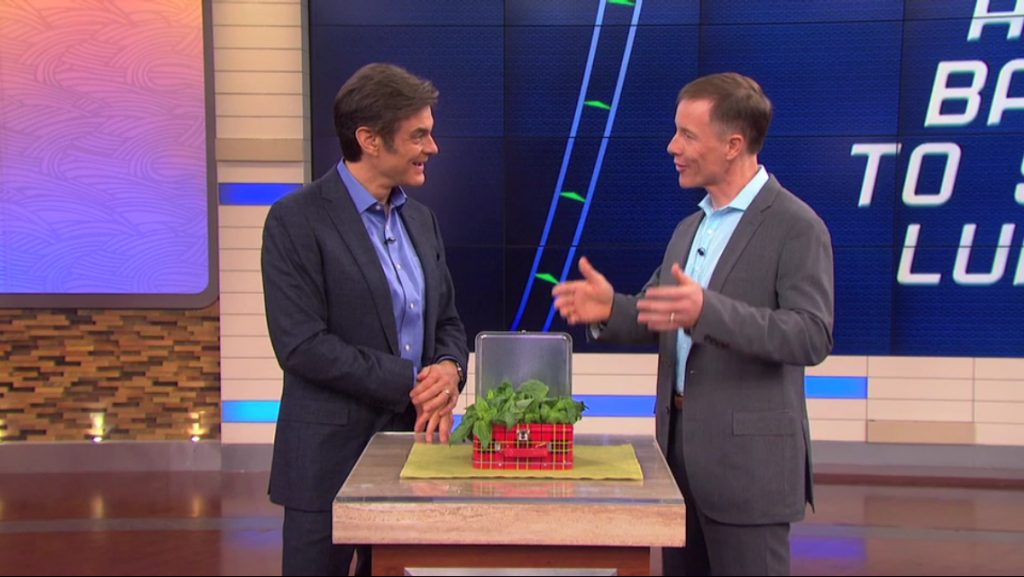 Would you believe that a small-town obese kid from Minnesota with epileptic seizures could be on Dr. Oz, The Doctors, Inside Edition, CNN Headline News, (and more)….as a health expert? I'm grateful for the opportunity to help millions of people all around the world feel "normal" again. That is my life purpose. I believe that when you reset your health, you reset your life and you make the world a better place.
Here's my story from seizures to "Top Doc" (thanks Phoenix Magazine). If you'd like to skip it, and simply get started, click HERE.
If you'd like to know why I am on a quest to share the best results from over 20 years of practicing integrative healthcare with you, keep reading…..
A fresh approach to living well.
Birth and adoption
My biological mother was an unwed teen who had a difficult pregnancy. I was born with symptoms of cerebral palsy like epileptic seizures and poor coordination. Thankfully, at 6 weeks old I was adopted by the kindest people you've ever met…the Christianson's, a farm-family from Northern Minnesota.
Childhood
Once I got settled in with the Christianson's, life was good. Mom read to me so much that I picked it up early and became an avid reader by 3 years old.
My parents got me an encyclopedia set which I could read by the time I was 4. (Yes, really). I loved it and spent hours every day reading the books cover to cover. Everything fascinated me, but my biggest love was science.
Men had just gone to the moon for the first time. It seemed like there was no limit to what we could do with the right information.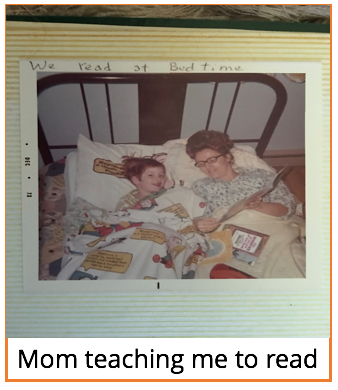 I used to love running outside. I remember feeling like I had the speed and the grace of the deer that came through our yard. I was sure I must have been the fastest kid around.
One day Mom brought over a playmate for me. When we ran through the yard together, I could not keep up – not even close. My right leg was the issue. It flung out to the side when I ran and my ankle would always sprain. I remember being in tears about it and mom consoling me. "It's OK because you are a reader and he is a runner."
Why couldn't I be both?
Soon after, I started school. We moved every few years and I had a hard time being the new kid.  I started to carry an overpowering sense of angst that I did not understand.
It turned out that a handful of surreptitiously-gained cookies could put the angst at bay. None of that was clear to me then. It just seemed like I was always hungry. It did not take long for this strategy to make me obese. Approaching puberty, I became horribly self-conscious about my weight.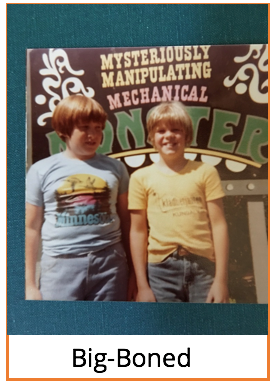 One memorable day in 7th-grade gym class, my life forever changed. A group of boys debated who had the biggest boobs in our class. One of them thought outside the box and nominated me as the clear winner. He was right.
I was crushed. I was well aware of that fact already and worked as hard as I could to hide it. I was hypercritical about how my shirts draped across my chest. I was constantly vigilant about which ones to wear and how I stood.
Once I realized that my ruse was not working, I knew I had to change.
First, I figured I'd join the football team. The jocks were fit and popular. I should do what they did. No joke – the first day of practice, as I was running out to the field, I blacked out from the exertion. That's how out of shape I was.
Now I was even madder and I realized that I needed a better plan.
I was already a serious bookworm. Yet up to this point, most of what I read was about science and space. I decided to go to a new section of the library.
I read every book I could find about nutrition, fitness, and health. Following their guidelines, I gave up sugar, processed foods, and started an exercise plan.
My health went from being my biggest frustration to my biggest obsession.
Within under two years, with no prior sports experience, I became a varsity football player and my school's (second) best distance runner. My leg still gave me issues. Perhaps because I was used to it being sore, pain from fatigue was no big deal. I was always able to push through it.
It was then I learned that my gift was being able to quickly digest huge amounts of information, act on it, and refine it based on real-world experience.
I realized that nothing else matters if you're miserable in your skin. Being healthy transforms both how you feel and how others treat you. Health is essential. I knew I had to learn how to help others.
Diagnose the true source of discomfort, then champion scientific and natural solutions.
Education
I started pre-med studies because I knew I wanted to be a doctor who used food and lifestyle as medicine. I thought I'd get a conventional medical degree. Yet the doctors that I spoke with told me that with a traditional medical degree, even if I was helping people with diet and lifestyle recommendations, I'd be violating standards of practice if I didn't focus on medications.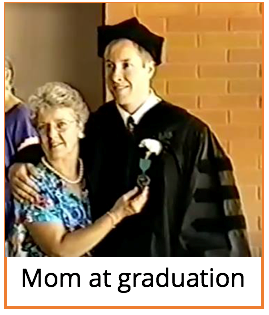 During this time I worked in a natural food co-op. I was the guy who would help ring you up or tell you which herbs were best for bronchitis. One day in the store I saw a magazine article about Naturopathic Medicine which I had never heard of before.
And in the back of the magazine was an ad for a brand new Naturopathic medical school opening up in Arizona. It was a perfect fit and I was accepted as a member of the very first class of Southwest College of Naturopathic Medicine and Health Sciences.
My class graduated in 1996 and I started my practice that same year.
Discover. Empower. Live well.
Natural Endocrinology
During my residency, one patient changed my medical focus. It started when I cared for a teen with disabling fibromyalgia. It was so bad she was about to have to drop out of high school. She also unexpectedly gained 30 pounds and nothing seemed to help.
I knew what her frustration felt like and I wanted to help. Then I found out she had undiagnosed Hashimoto's. Because of my research and training, I was able to guide her to reverse it. This experience led me to realize that hormones are powerful chemicals that can keep diet and exercise from working when they're out of balance.
This experience compelled me to learn all I could from the conventional and alternative worlds about hormones through the study of endocrinology. Since that time, endocrinology became the focus of my medical practice, I've trained hundreds of doctors worldwide on it, and I founded the Endocrine Association of Naturopathic Physicians.

Health problems resurface
After about a decade into my medical practice, some of the old complications of cerebral palsy started to catch up with me again. Over my adult years, I ran regularly and did some recreational races. I had a few wins and lots of age group awards.
I tried my hand at the emerging sport of ultramarathons and things changed. My first 50-mile race was over ridiculously steep and rocky terrain. After about mile 35, the pain in my right foot was unprecedented.
Everyone talked about ultramarathons being a battle with pain, so I expected some. I remember wondering if everyone else was in as much pain as I was. I wasn't sure if I would be a wimp if I quit or if I was causing permanent damage.
I did not quit. But I was left unable to run.
As a child, the fact that I could not run was the most concrete proof of my limitations and I hated it. To be able to run was freedom, it was validation, and it was vindication. It let me feel that I was not flawed.
I can't express the emotional pain wrapped up in losing the ability to run. I spent about 17 years trying to find some activity that could take its place.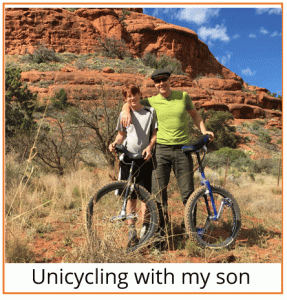 I tried biking, climbing, general fitness, you name it. I even took up off-road unicycling. Nothing made me feel as good as running. And anything I did enough of, led to more pain.
A circle of physicians who care.
Surgeries
I'd tried everything I could including multiple "1st step" surgeries, but nothing helped. My surgeon said I'd need more major leg surgeries, but they would require a year of recovery and they would not be guaranteed to help. For a few years, I was in limbo, not wanting to give up the little bit of activity I could do.
About this time, I developed a lump in my left arm. It was a rare nerve tumor called a schwannoma. Most schwannomas are benign, but some are malignant. The ones that are really aren't treatable, but even just getting to it wasn't that easy. If the surgery did not go well, I could lose the use of my arm.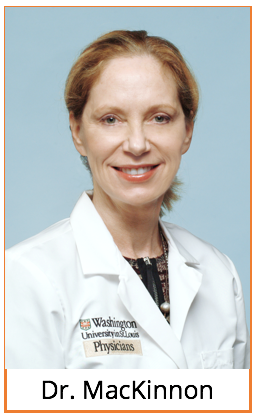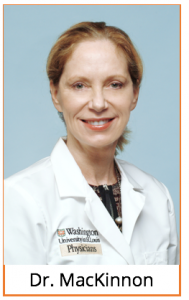 I connected with a doctor who is amongst the world's leading neurosurgeons. She was optimistic but did say that there were three possible outcomes and we would not know until after surgery.
I had a few months of not knowing whether I'd:
A.  Regain the use of my arm or
B.  Lose the use of my arm or
C.  Learn that I had an untreatable cancer
As a doctor, I knew this was an example of the many ways in which our bodies are not perfect. You can take care of yourself and be a good person, and still, random things can happen.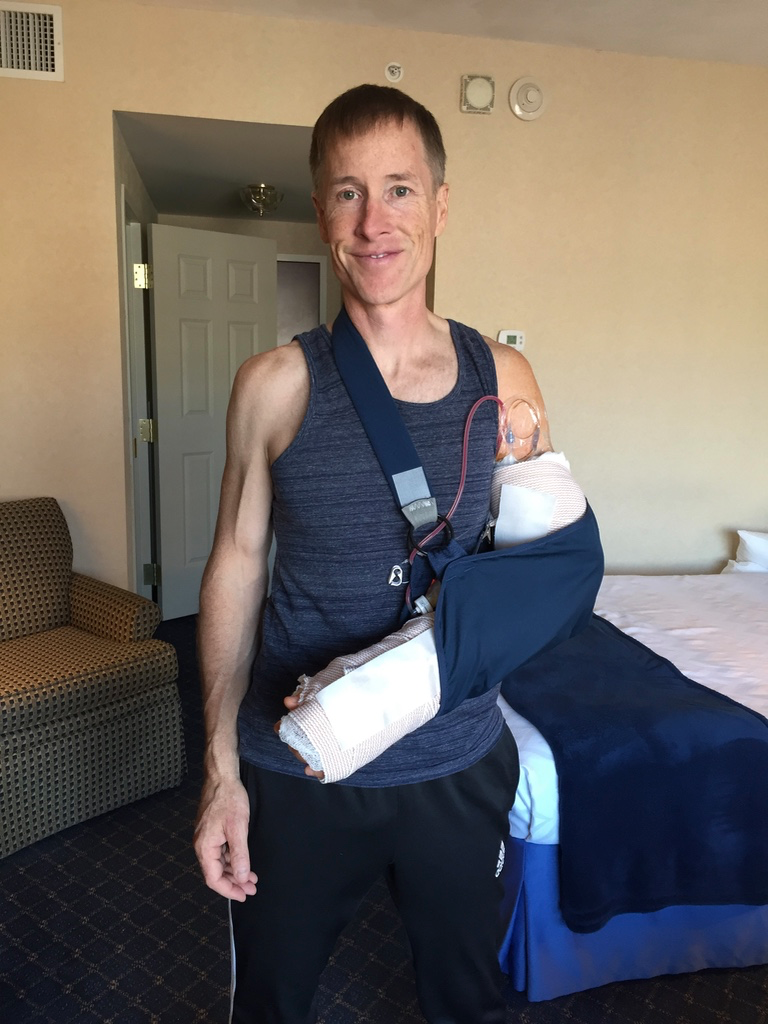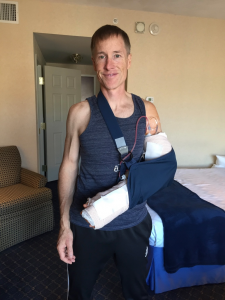 The day after my arm surgery was a good day. My surgeon told me the lesion was not dangerous, she got it all, and she was confident I'd regain the use of my arm. This pic was taken just after I'd heard the news!
The surgeon who had worked on my legs in the past had become a personal friend and I told him about this situation.
He knew that the main reason I hadn't yet done the more extensive surgeries with him is that I did not want to go through the prolonged recovery process. He said that since I was already committed to downtime because of my arm, we might as well do the other surgeries. So I did. It was 3 major surgeries in 3 months.
The last surgery was in 2016 and I've been able to resume my running with some caution and plenty of rehab. In fact, in early 2019 I was able to do my first marathon in over 20 years and I managed to qualify to race in Boston.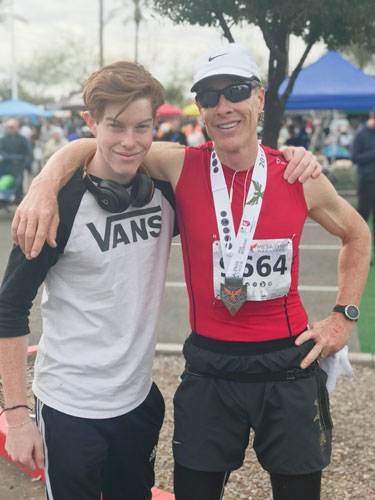 Reset your health. Reset your life.
Now you know why this health thing is so important to me.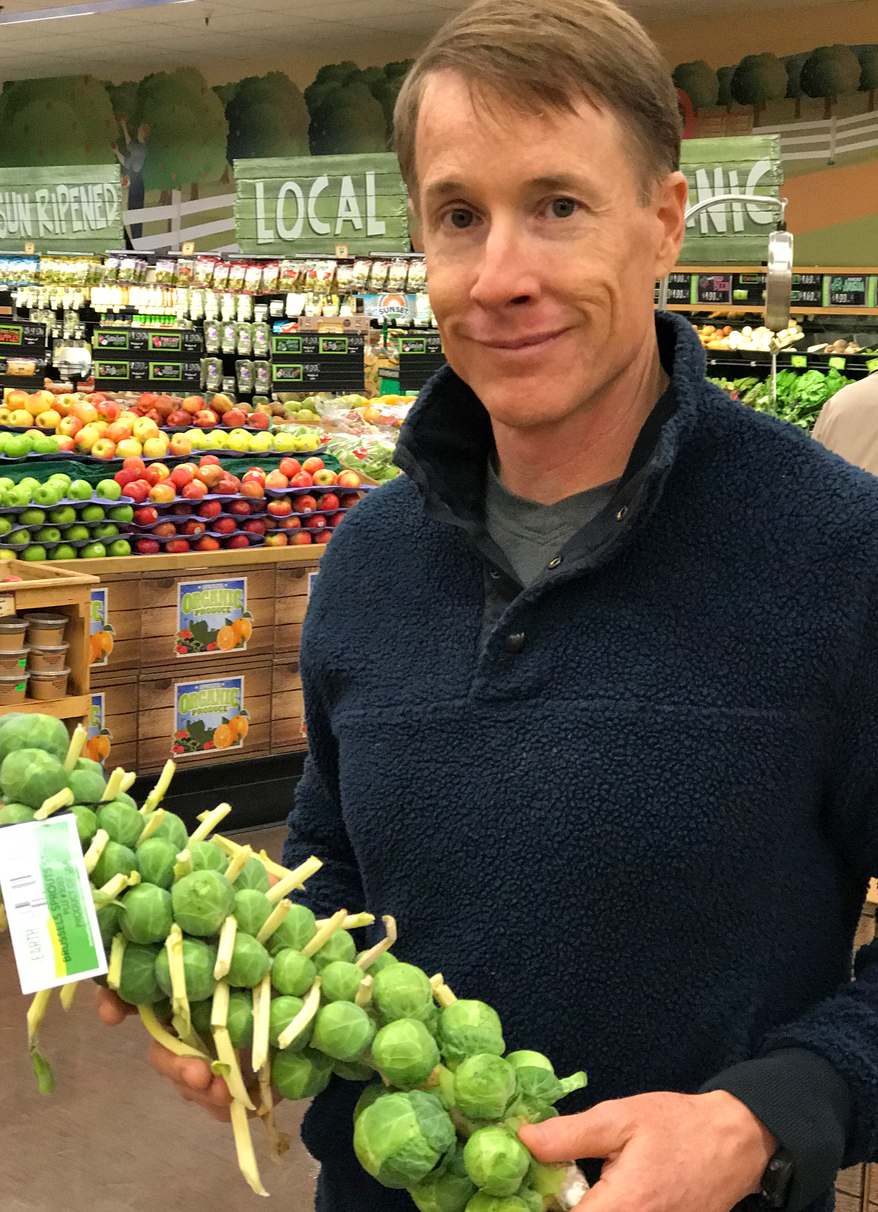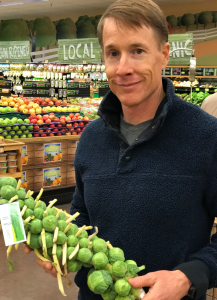 I know how painful it is when you feel your body has betrayed you.
I know how precious health is.
I know how critical the right help is.
Most importantly, I know that it is possible to be past the point of hope – but still get better. If you're past the point of hope now, please reread that.
If any of that resonated with you, let's get going on your journey back 🙂
Best place to start is this quiz to see how well your adrenal glands are working right now. They control your resilience. If you don't have much, it's your top priority.