What can you think of that is giving you joy this spring? I'm finding so much joy in walking. Recovery is coming along. I can now walk a couple of miles per day in regular shoes without too much pain.
I'm having so much fun with it, I wanted to share a walking challenge with my team, and you're welcome to join us! Here's how it works:
Our gro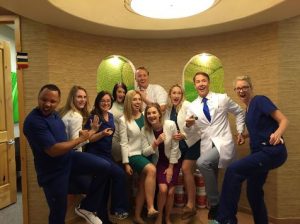 up has been divided into 4 teams. Each member wears a pedometer and tracks their steps every day. At the end of this quarter, the team with the most steps all wins a fancy fitbit or other device of their choosing.
I've used pedometers before, but never this regularly. The only drawback is that time spent on a bike (or unicycle) does not end up counting towards that day's steps.
Any way you track is fine. We got a bunch of simple pedometers which work great and automatically remember your steps for a whole week.
It is so fascinating to see how different my brain works on the days in which I get in over 10,000 steps.
It is also fun always thinking about how you can squeeze a few more steps out of every activity. We have a paging system in the office, but now, everyone goes out of their way to walk across the clinic to talk face to face. I'm sure this will be good for communication also.
To get in the action, like us on Facebook and share your step counts when you see them. We'd also love to hear insights that you've found and strategies that you've discovered to help you get those extra steps.


Continue to Don't Resist This Starch