Last week I was walking out of our local Sprouts grocery store and I saw the girl scouts selling cookies and I felt conflicted.
I don't feel right giving the cookies to my family. The other option is buying cookies to donate to our troops, I would not feel right about that either. Trans fats, GMO wheat flour, and sugar won't help improve PTSD.
Here are two solutions I found that I wanted to share with you.
Solution #1 (If you want to support the girls) – Donate
I love the organization, my daughter was active when she was little. I could not agree more with their saying:
Invest in girls. Change the world.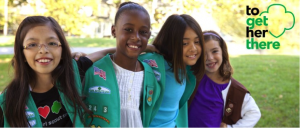 We believe that when girls succeed, so does society.
Just click the picture to learn more.
Solution #2 (If you want cookies) Thin Mints Shake Recipe
Ingredients:
Essential Pro protein powder – 1 serving
Organic essential oil of peppermint – 1-3 drops (start low and test)
Organic raw cacao nibs – 1 tbsp 
Unsweetened flax milk – 1 cup
Dry roasted unsalted cashews – 2 tbsp
Liquid chlorophyll – 1-2 drops (makes it a lovely green)
Ice – 1 cup
Directions:

Pour everything but the cashews in your blender
Blend on high power 2-3 minutes
Add cashews
Blend 5-10 seconds
Enjoy!