One of my all time favorite things would be America's National Park system. I'm so thankful to our visionary leaders who saw the value in preserving our wildlands.
Last weekend my son and I got in some National Park time – we did Bryce and Zion. We didn't even mind that the weather was a bit of a mess.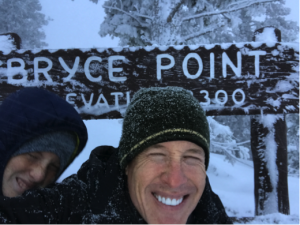 Here we are at the scenic overlook of the Bryce Amphitheater. Our Jeep got us to the trailhead even though the roads were closed from the blizzard. We had no more than a few feet of visibility and couldn't keep our eyes open long from the force of the blowing snow.
In short, it was a beautiful time and we had a blast!
Don't tell too many people this secret, but the National Parks are especially lovely when the weather is too fierce for tourists. Which National Parks are within a day's drive from you? When was the last time you got a mega dose of vitamin N?